Introduction/Description
BS in Bioinformatics is designed to gratify the demands of a multidisciplinary and rapidly evolving field. Bioinformatics, a combination of biology and computer science, is an emerging field that helps in collecting, linking and manipulating different types of biological information to discover new biological insight. Bioinformatics is playing a critical role in understanding biological data by providing quick information and making research fast and facilitating us to understand and improve life. BS in Bioinformatics is aimed to equip the students with the updated knowledge, software tools and different databases for better manipulation of biological data and designing of new drugs to treat various diseases. The students may pursue their career as Bioinformatics software developer, scientific curator, Protein analyst, Computational biologist, Phylogeneticist, Gene analyst, Research scientist, Database programmer, Structural analyst, Bio-statistician and Molecular modeller.
Program Objectives
To enable students to integrate and analyze data from different genomic and proteomic research work.

To equip the students with computational techniques so that they can develop diversified bioinformatics algorithms and tools for processing and analyzing data.

To enable students to design and develop efficient and reliable bioinformatics solutions by optimizing the usage of existing tools.
Admission Eligibility Criteria
Intermediate with Pre-engineering / Pre-medical / Computer Sciences (equivalent to 12 years of education) with at least 45% marks.
Note
Candidates having 'A' levels are required to provide equivalence certificate from Inter Board Committee of Chairman (IBCC), Islamabad. (

http://www.ibcc.edu.pk/

)

Zero Semester is not applicable for BS Bioinformatics Program.

Limited seats on merit basis.
Note The BS in Bioinformatics is only available for applicants residing within Pakistan and is not available for overseas students. If any student wishes to move overseas after gaining admission, he/she will be required to withdraw for the program.
Merit Calculation Formula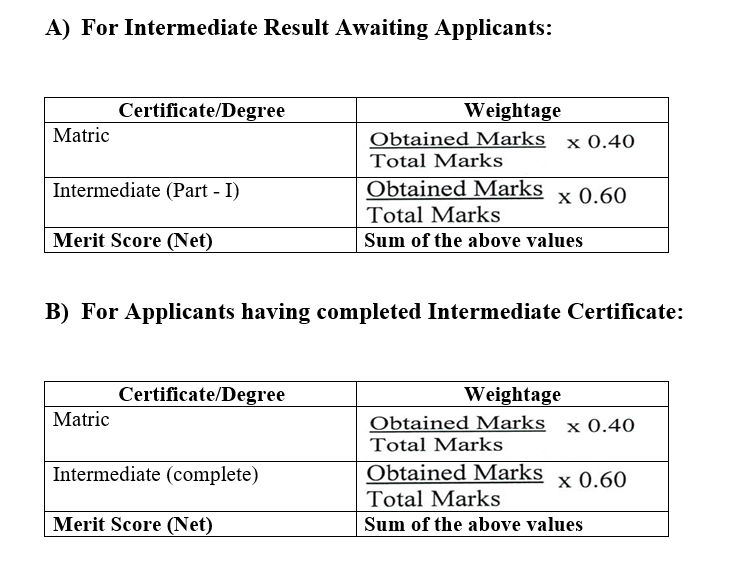 Note: The applicants applying for admission towards aforesaid programs through BS entry route/Course Exemption will also compete merit. However, their merit will be calculated using formula listed in table number 2 under category: For Applicants having completed Intermediate Certificate.
Course Exemption
Course exemption is allowed.
Duration
It is four-year full time study program spread over eight semesters, two semesters per year. Each semester has at least 18 weeks duration for teaching and examinations etc.
Degree Completion Duration
Courses of Study
For detail about BS in Bioinformatics study scheme check below link.
Click here  to View Study Scheme
Assessment of Study Progress
The students study progress evaluation mechanism is based on continuous assessment throughout the semester by giving assignments, quizzes, Graded Discussion Boards (GDBs), course(s) practicals (wherein applicable), mid-term and final-term examinations at VU designated campuses and usually count for 80 to 85% of the total marks for a course.
Course(s) Practicals
Participation in practical classes of a course(s) will be compulsory for a student to qualify respective course(s). Each student will participate in practical classes at the VU designated lab cities which were allocated at the time of admission. List of the VU Lab cities is published on VU website link www.vu.edu.pk >> Home >> Admission Schedule
Note: The University admits students of Biological sciences programs on merit as per the available seats against each lab city during the admission session. Once a student is admitted against a particular lab preference then he/she will not be allowed to change his/her lab city after admission.
Project
Students are required to complete a Project of 6-credit hours in 7th and 8th semesters as prescribed scheme of studies of BS in Bioinformatics. The choice of the final project is at the student's discretion. However, consultation with the student advisor is compulsory. Students have to submit a detailed write-up of the Project and may be required to give a presentation.
Award of Degree
To be eligible for the award of four-year BS in Bioinformatics, the students are required to complete at least 132 credit hours according to prescribed scheme of studies with at least CGPA 2.00 out of 4.
Fee Structure
Click here  to View Fee Structure
Note Fee for practicals will be charged separately.
Disclaimer
The courses may be revised from time to time as a result of continuous review to bring them at par with courses being taught at top-class foreign universities. While reviewing the courses needs of local industry and job market are also given full consideration.

The University reserves the right to change fee structure from time to time.